Worship at Trinity
Holy Eucharist Rite II
with music and choir

Sunday School and
Nursery Care


Compline/Healing Prayer Service

4th Tuesday

10:00 AM

Holy Eucharist with Music

Trinity's 10 am Worship Service is televised on Branford Cable Access Channel 18 and AT&T Channel 99 each Sunday at 7 pm.
Welcome!
The people of Trinity Church welcome you.  We are a congregation that embraces all people, from all faith traditions or those who are new to a journey of discovery. We celebrate our diversity.  We are a church community worshiping and exploring the mystery of God, deepening our spirituality, and caring for each other.  We reach out to those in need in Branford, the region and in the world, practicing love for our neighbors. We welcome you.
On these pages you will find information about worship, descriptions of ministries, programs, and activities available to all at Trinity. You may also call the church office or email us to obtain further information that's helpful to newcomers.  A warm welcome to you!
An invitation.
For those who identify themselves as "spiritual but not religious," once you look around this website, you will see the many wonderful things that this congregation believes in, hopes for, and accomplishes. But words and images on a website cannot tell you what it feels like here or what you might experience. Only coming through the red doors and spending some time with us will do that and so we invite you. We invite you so that we may be a blessing to you. And we know that in so doing, we will also be blessed. We do not promise easy answers. Instead we commit to being joyful companions on the journey.
Through The Red Doors
A bit of history… The congregation now known as Trinity Church was founded in the 1700s. Our iconic white church on the town Green was built in 1852, in English Gothic style.  Trinity's bell, weighing 2,500 pounds, was cast in 1869 and also served as Branford's first fire alarm until 1925. The sanctuary is beautifully embellished with striking stained glass windows, three of which are from the Tiffany studio. In 1916, the Parish Hall was erected and served as a hospital for the Town of Branford during the Spanish flu epidemic of 1918.
More ...
Through the Years
Trinity's purpose remains steadfast. We are members of the Body of Christ, worshiping together in an inspiring setting, with meaningful liturgy and uplifting music, all informed by our passion for a transformed world of justice and peace. From the Branford Food Pantry to the mountains of Haiti, Trinity Church is committed to loving our neighbors.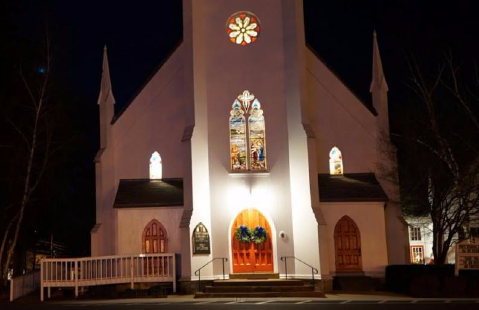 Upcoming Events
Wednesday, November 1     
All Saint's Day – we remember all the saints who are in the company of heaven
Thursdays 2, 9, 16, 30
7:30 PM  Choir Rehearsals Parish Hall.  Interested in joining?  Contact Ron Baldwin.
Sunday, November 5
9:00 AM First Sunday Breakfast, Undercroft    
Blueberry pancakes with sausage and a fresh fruit garnish.  Cranberry and/or orange juice will be available, as well as coffee and tea.  $3.50 adult, $2.00 children, $10 max per family.
10:00 AM  Holy Eucharist    
We welcome into Holy Baptism Peter Benjamin Greco, Jr.
 
Monday, November 6
4:00 PM  Columbus House    
Each month, your donations of Dinty Moore beef stew, noodles, and canned green vegetables help to feed over 80 people. Volunteers take a turn baking cake for dessert, or providing salad ingredients, or serving in the kitchen. This is your chance to let team leader Bobbe Otis know how you can help.
Tuesday, November 7  
7:00 PM , Trinity Book Group   
Middlesex, by Jeffrey Eugenides.   Hosted by Ed Monico. "I was born twice: first, as a baby girl, on a remarkably smog-less Detroit day of January 1960; and then again, as a teenage boy, in an emergency room near Petoskey, Michigan, in August of 1974.   My birth certificate lists my name as Calliope Helen Stephanides.  My most recent driver's license records my first name simply as Cal." Lyrical and thrilling, Middlesex is an exhilarating re-invention of the American epic. Middlesex is the winner of the 2003 Pulitzer Prize for Fiction.
Wednesday, November 8
11:00 AM – 4:00 PM, Branford Cares Connects  Parish Hall 
Connecting People To Information and Services in Branford is the purpose of Branford Cares Connects.  The second Wednesday of each month representatives from about two dozen non-profits will assemble in one place—-Trinity's Parish Hall--to provide service information and navigation assistance to simplify and speed up how to get help in Branford.
Sunday, November 12 
Thanksgiving Turkey Dinners deadline  You are invited to give a dinner for a family of four for $30. The dinner will include turkey, stuffing, cranberry sauce, vegetables, pie crust, filling, and pudding. Or for a smaller contribution of $10.00, you may provide the supplemental coffee, butter and frozen juice. Or, you may provide both.  We are working with Big Y to get the best bulk prices. Make checks payable to Trinity Church, and we will take care of the rest. Bring a check on Sunday as the last day to be included. 
Children's & Youth Choir Forming
11:15 AM, Church. 
For children of all ages, a very special treat is in the making, thanks to the Henry family—Chris, Amanda & Nellie.  Daughter Nellie wants to sing.   Dad Chris is a Trinity choir section leader.  All they need are more children to form a seasonal choir (we hear rumor there are six children so far!).    Interested children and parents should simply show up.  Rehearsal will be in the church and parents can enjoy coffee hour in the Parish Hall.  We can't wait to hear this choir!
Friday & Saturday, November 17 and 18
Episcopal Church in CT Annual Convention, Hartford.
Sunday, November 19
9:00 AM, Come & Be Fed Catch up with the impact of Branford Cares programs, and learn more about the newest initiative, Branford Cares Connects.
3:00 PM. Middle school youth bike ride. Meet at the Church with your bicycles and helmet.
Thursday, November 23,   Thanksgiving
10:00 AM Holy Eucharist, Church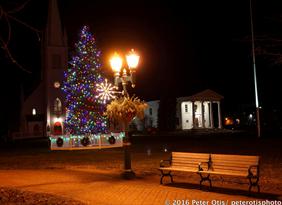 Saturday, November 25
4:00 – 7:00 PM  Town Tree Lighting Night    
As has become custom, we invite parade goers in from the cold to enjoy homemade cookies, hot cider & chocolate provided by Trinity and the Scouts, and sing carols with the Town Band in the church. Come out and enjoy the festivities and a warm Trinity welcome.
The Family Giving Tree
The Family Giving Tree will be loaded with stars and other ornaments. Each Branford Branford  Counseling Center family is represented by one set of ornaments, so that all their gifts arrive together. Each ornament lists the item to be purchased. Be sure to sign your name on the master sheet against the number of the ornament you took. And remember, wrapped presents are due back under the Giving Tree by December 10. Thank you, one and all.
Sunday, November 26  
Commitment Sunday, we recognize pledges for Trinity's ministry next year. Please bring your pledge card to church, or mail it into the office no later than November 30.
Tuesday, November 28
7:00 PM Compline   If you, a loved one or friend is in need of healing, or if you want to offer up healing prayers for our broken world, please join us. Prayer meditation, laying on of hands, and anointing with oil will all be available.

---
Complete Calendar of Events
---
Our News
Enjoy our monthly newsletter, Messenger, full of news, stories, photos and ideas.