Worship at Trinity
Holy Eucharist Rite II
with music and choir

Sunday School and
Nursery Care


Compline/Healing Prayer Service

4th Tuesday

10:00 AM

Holy Eucharist with Music

Trinity's 10 am Worship Service is televised on Branford Cable Access Channel 18 and AT&T Channel 99 each Sunday at 7 pm.
Welcome!
The people of Trinity Church welcome you.  We are a congregation that embraces all people, from all faith traditions or those who are new to a journey of discovery. We celebrate our diversity.  We are a church community worshiping and exploring the mystery of God, deepening our spirituality, and caring for each other.  We reach out to those in need in Branford, the region and in the world, practicing love for our neighbors. We welcome you.
On these pages you will find information about worship, descriptions of ministries, programs, and activities available to all at Trinity. You may also call the church office or email us to obtain further information that's helpful to newcomers.  A warm welcome to you!
An invitation.
For those who identify themselves as "spiritual but not religious," once you look around this website, you will see the many wonderful things that this congregation believes in, hopes for, and accomplishes. But words and images on a website cannot tell you what it feels like here or what you might experience. Only coming through the red doors and spending some time with us will do that and so we invite you. We invite you so that we may be a blessing to you. And we know that in so doing, we will also be blessed. We do not promise easy answers. Instead we commit to being joyful companions on the journey.
Through The Red Doors
A bit of history… The congregation now known as Trinity Church was founded in the 1700s. Our iconic white church on the town Green was built in 1852, in English Gothic style.  Trinity's bell, weighing 2,500 pounds, was cast in 1869 and also served as Branford's first fire alarm until 1925. The sanctuary is beautifully embellished with striking stained glass windows, three of which are from the Tiffany studio. In 1916, the Parish Hall was erected and served as a hospital for the Town of Branford during the Spanish flu epidemic of 1918.
More ...
Through the Years
Trinity's purpose remains steadfast. We are members of the Body of Christ, worshiping together in an inspiring setting, with meaningful liturgy and uplifting music, all informed by our passion for a transformed world of justice and peace. From the Branford Food Pantry to the mountains of Haiti, Trinity Church is committed to loving our neighbors.

Sermons
Read Rev. Sharon's sermons and Recommended Readings. More...
Upcoming Events
Monday, May 1
4:00 PM Columbus House Ministry
Each month, your donations of Dinty Moore beef stew, noodles, and canned green vegetables help to feed over 80 people. Volunteers take a turn baking cake for dessert, or providing salad ingredients, or serving in the kitchen. This is your chance to let team leader Bobbe Otis know how you can help.

Tuesday, May 2
Trinity Book Group, 7:00 PM
Young Men and Fire, by Norman Maclean, author of A River Runs Through It, hosted by Ed Monico. On August 5, 1949, a crew of fifteen of the United States Forest Service's elite airborne firefighters, the Smokejumpers, stepped into the sky above a remote forest fire in the Montana wilderness. Two hours after their jump, all but three of these men were dead or mortally burned. Haunted by these deaths for forty years, Norman Maclean puts back together the scattered pieces of the Mann Gulch tragedy. Young Men and Fire won the National Book Critics Circle Award in 1992.

Saturday, May 6
14th Annual Shoreline Walkathon
Register at 9:00 AM to support the Branford Community Dining Room on a three mile walk to Foote Park and back. All proceeds support the CDR. More details at https://communitydiningroom.wordpress.com/.

Sunday, May 7
9:00 AM – First Sunday Breakfast
Make Your Own Breakfast Burrito's. Fellowship and good food, what could be better? Burritos your way, with a variety of fillings such as scrambled eggs, chopped bacon, Mexican-style cheese, fresh homemade guacamole, fresh salsa, breakfast sausage, rice and beans, and other assorted fillings. Margaritas (non alcoholic),juice (V-8 and orange), and coffee or tea. $3.50 adult, $2.00 children, $10 max per family. Middle school youth will assist the First Sunday Breakfast crew to serve breakfast and cleanup.

9:45 AM Middle School church school, in the Guild Room

10:00 AM Worship – special blessing for Ed and Martha Monico

Saturday, May 13
Leadership Retreat at St. John's, North Guilford, 8:30 AM - 3:30 PM.
Members of Vestry and the Council of Ministries spend the day discerning mission, vision, and Trinity's growing role of assistance in the Branford community.

And,
Raise the Roof, Build on the (Branford) Green, 9:00-4:00 PM. Raise the Roof is dedicated to the elimination of poverty housing through community participation that includes financial support, volunteer labor and leadership for local, national and global Habitat for Humanity International builds. Raise the Roof is your Shoreline Habitat Connection. There's no better way to start a day of hard work than with a Trinity Pancake breakfast. Many thanks to our top Chef, Mitch Rucinski, and the kitchen crew. More information on how to participate with Raise the Roof may be found at http://www.raisetheroofct.org.

Sunday, May 14 – Mother's Day

Monday, May 15
Noon – Trinity hosts lunch for two dozen representatives of Branford's libraries, education, health/medical, preschool organizations, social service agencies, elder care, and more. The plan is to discuss a model of information dissemination that is working successfully in other shoreline towns, with the hopes of implementing a similar model that works as well in Branford. It's a one-stop help and information day, once a month, held in Trinity's Parish Hall. The goal is to connect people to services and information in Branford, simply and quickly. More to come.

Tuesday, May 9
7:00 PM Compline/Healing Service at Zion Episcopal Church, North Branford
Members of Trinity and Zion pray together for peace and healing.

Saturday, May 20
Loaves and Fishes, 8:00 - 10:30 AM
The middle school youth travel to New Haven to volunteer at this popular food pantry and clothing bank at St. Paul & St James Episcopal Church.

Sunday, May 21

9:00 AM Come and Be Fed!
Parish Hall Martha Monico, MSN, and Ed Monico, MD, JD, will speak on Advanced Care Planning, with a focus on the Five Wishes. This is information for aging with dignity, and to have conversations with friends, relatives, and oneself.
10:00 Worship - First Informed Holy Communion for Julia Albert.
First Informed Holy Communion is a new experience for Trinity. Julia Albert, a lovely young member of Trinity, is taking it on herself to learn about the Eucharist. She will create an altar hanging, baking bread, help to set the altar that morning, and share her thoughts and questions, all as a part of our Sunday morning worship.
At Coffee Hour, be present to congratulate Margaret, our seminarian, for completing her official didactic requirements with Trinity.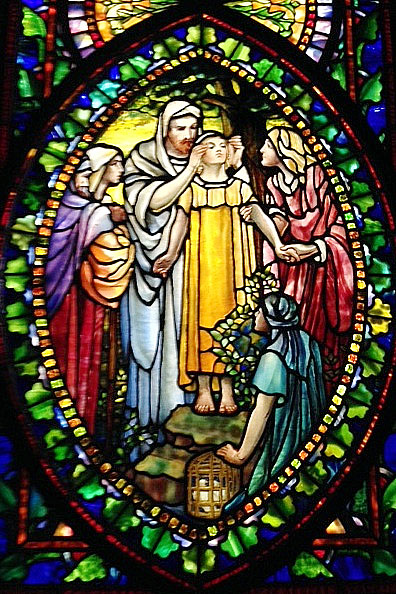 Tuesday, May, 23
7:00 PM Compline/Healing Prayer
If you, a loved one or friend, is in need of healing, or if you want to offer up healing prayers for our broken world, please join us. This is a quiet time to pray for healing, peace, and non-violence. Join with others to pray together for people listed on the weekly community prayer list. Please invite family, friends, and neighbors.
Wednesday, May 31
5:00 - 9:00 PM Auditions for Summer Singing, Parish Hall
Calling all singers serious about singing! For six weeks this summer, Carol Ann Manzi brings her successful Summer Singing workshop to Trinity. The workshop is open to folks in the area of all ages, but by audition An evening showcase performance will be the culmination of the workshop. Classes will run Monday thru Friday, 9:00 AM to 1:00 PM in the Church. Start date and more details to be announced shortly.

Administrative and Standing Meetings

All meetings are open to anyone who wishes to attend.  Participation is welcome.

---
Our News
Enjoy our monthly newsletter, Messenger, full of news, stories, photos and ideas.