Worship at Trinity
Holy Eucharist Rite II
with music and choir

Sunday School and
Nursery Care


Compline/Healing Prayer Service

4th Tuesday

10:00 AM

Holy Eucharist with Music

Trinity's 10 am Worship Service is televised on Branford Cable Access Channel 18 and AT&T Channel 99 each Sunday at 7 pm.
Welcome!
The people of Trinity Church welcome you.  We are a congregation that embraces all people, from all faith traditions or those who are new to a journey of discovery. We celebrate our diversity.  We are a church community worshiping and exploring the mystery of God, deepening our spirituality, and caring for each other.  We reach out to those in need in Branford, the region and in the world, practicing love for our neighbors. We welcome you.
On these pages you will find information about worship, descriptions of ministries, programs, and activities available to all at Trinity. You may also call the church office or email us to obtain further information that's helpful to newcomers.  A warm welcome to you!
An invitation.
For those who identify themselves as "spiritual but not religious," once you look around this website, you will see the many wonderful things that this congregation believes in, hopes for, and accomplishes. But words and images on a website cannot tell you what it feels like here or what you might experience. Only coming through the red doors and spending some time with us will do that and so we invite you. We invite you so that we may be a blessing to you. And we know that in so doing, we will also be blessed. We do not promise easy answers. Instead we commit to being joyful companions on the journey.
Through The Red Doors
A bit of history… The congregation now known as Trinity Church was founded in the 1700s. Our iconic white church on the town Green was built in 1852, in English Gothic style.  Trinity's bell, weighing 2,500 pounds, was cast in 1869 and also served as Branford's first fire alarm until 1925. The sanctuary is beautifully embellished with striking stained glass windows, three of which are from the Tiffany studio. In 1916, the Parish Hall was erected and served as a hospital for the Town of Branford during the Spanish flu epidemic of 1918.
More ...
Through the Years
Trinity's purpose remains steadfast. We are members of the Body of Christ, worshiping together in an inspiring setting, with meaningful liturgy and uplifting music, all informed by our passion for a transformed world of justice and peace. From the Branford Food Pantry to the mountains of Haiti, Trinity Church is committed to loving our neighbors.

Upcoming Events
Tuesday, November 28
7:00 PM Compline   If you, a loved one or friend is in need of healing, or if you want to offer up healing prayers for our broken world, please join us. Prayer meditation, laying on of hands, and anointing with oil will all be available.

Saturday December 2
1:00 PM An Afternoon of High Tea & Demonstration on Tea
Fundraiser for Trinity's BSA Venture Crew 424.
Menu: Seasonal Soup, Scones, Tea Sandwiches, Desserts, Black, Green, & Herbal Teas, Coffee.

Demonstration on making tea using ingredients found in your pantry & garden. Enjoy a relaxing afternoon before the onset of winter weather!

Suggested donation $20 per person; $70 for group of 4 discount. Senior discount upon request.

Reservations: teabycrew@gmail.com or text/call 203-376-2819. Walk-ins welcome.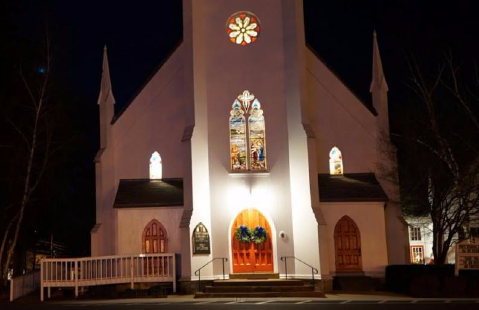 ADVENT
Sunday, December 3 First Sunday of Advent
We light the candle of hope.
9:00 AM    First Sunday Breakfast
You can count on Christmas elves to cook up a special breakfast treat.  It's a lovely way to start advent—in fellowship over good food.  Cranberry and/or orange juice will be available, as well as coffee and tea.  $3.50 adult, $2.00 children, $10 max per family.
9:00 AM    Making Advent Wreaths  Meet in the Parish Hall between the services to make advent wreaths.  Children and adults welcome.  Let Martha Monico know if you are interested.  Free supplies for the first 12 people to sign up!  If you have reusable wreath forms, bring them along.
Monday, December 4
4:00 PM  Columbus House   
Each month, your donations of Dinty Moore beef stew, noodles, and canned green vegetables help to feed over 80 people. Volunteers take a turn baking cake for dessert, or providing salad ingredients, or serving in the kitchen. This is your chance to let team leader Bobbe Otis know how you can help.

Tuesday, December 5
7:00 PM Trinity Book Group  
Salvage the Bone,  by Jesamyn Ward, hosted by Peter Schuller and Jen Zehler.  This novel was winner of the 2011 National Book Award.  A hurricane is building over the Gulf of Mexico, threatening the coastal town of Bois Sauvage, Mississippi, and Esch's father is growing concerned.  A hard drinker, largely absent, he doesn't show concern for much else. As the twelve days that comprise the novel's framework yield to the final day and Hurricane Katrina, the unforgettable family at the novel's heart--motherless children sacrificing for each other as they can, protecting and nurturing where love is scarce--pulls itself up to struggle for another day.  A wrenching look at the lonesome, brutal, and restrictive realities of rural poverty, Salvage the Bone is muscled with poetry, revelatory, and real.
Thursdays 7, 14, 21, 28
7:30 PM  Choir Rehearsals Parish Hall. 
Interested in joining?  Contact Ron Baldwin.
Saturday, December 9th 
10:00 AM Christmas Card-making, Guild Room 
 You don't need to be crafty or have participated before. Just show up and help the group make Christmas cards for Trinity's homebound, personal invitations to the Blue Christmas Service on December 22nd and anyone who could use a cheery message. Come on out and get into the spirit.
2:00 PM, Christmas With Tiffanies!
Trinity will collaborate with the Branford Arts and Cultural Alliance, to present Tony Terry, AIA (architect) who will be back with special guest Debora Coombs (artist of The Hanna Window), to the tell the story of Trinity's stained glass and what makes our church so special. The Trinity Choir will complement the event with rousing music.    Light refreshments follow.

Sunday, December 10, Second Sunday of Advent
We light the Candle of Light.
9:00 AM   One Service only. 
Immediately following the service, Maryann Doyle, Financial Feasibility Study consultant, will present a summary of member feedback so that all may hear the report before the Vestry vote.  Do plan to attend that day to hear what Maryann has to tell us.

Wednesday, December 13
11:00 AM – 4:00 PM, Branford Cares Connects 
Parish Hall  Connecting People To Information and Services in Branford is the purpose of Branford Cares Connects.  The second Wednesday of each month representatives from about two dozen non-profits will assemble in one place—-Trinity's Parish Hall--to provide service information and navigation assistance to simplify and speed up how to get help in Branford.
Saturday, December 16th 
10:00 AM, Cookie Packaging, Undercroft
Make a few dozen of your favorite Christmas cookies and bring them to the undercroft where you can help pack them up for our homebound members, not often seen but not forgotten.   Mark your calendar for this gratifying activity. 
Cookie deliveries will take place immediately following the assembly of the cookie packages.  Bring the season of Advent and all the anticipation of the Christ Child to those in our congregation who cannot come and worship with us or could use a cheery visit. Contact Mary MacDonald or Nancy Williams (choir), if you have questions.
Sunday, December 17, Third Sunday of Advent
We light the Candle of Joy.
Our youth and members of our choir will also deliver cookies today.  Add your voice to the caroling!
Saturday, December 23 
7:00 PM, Longest Night: A Blue Christmas
 Christmas isn't joyous for those who are grieving, depressed, ill, alone, or feeling blue. We recognize their struggles and invite them to share this special service with others who feel the same, and receive the true gift of Christmas - hope.  Please invite anyone you know who might benefit from this service.  Best of all, accompany them.
Sunday, December 24, Fourth Sunday of Advent
We light the Candle of Peace
9:00 AM    One Service –We will have Advent with one morning service, after which we could use some help to green the church. 

CHRISTMAS

Christmas Eve Services:
5:00 PM  Family Service will have an interactive children's sermon.  There is no pageant this year.
10:30 PM   The choir continues the tradition of presenting a choral music prelude to the festive Eucharist at 11:00 PM.  There will be some congregational carols included in the program. 
Monday, December 25
We light the Christ Candle.
10:00 AM Christmas Day Holy Eucharist

---
Complete Calendar of Events
---
Our News
Enjoy our monthly newsletter, Messenger, full of news, stories, photos and ideas.