Worship at Trinity
Holy Eucharist Rite II
with music and choir

Sunday School and
Nursery Care


Compline/Healing Prayer Service

4th Tuesday

10:00 AM

Holy Eucharist with Music

Trinity's 10 am Worship Service is televised on Branford Cable Access Channel 18 and AT&T Channel 99 each Sunday at 7 pm.
Welcome!
The people of Trinity Church welcome you.  We are a congregation that embraces all people, from all faith traditions or those who are new to a journey of discovery. We celebrate our diversity.  We are a church community worshiping and exploring the mystery of God, deepening our spirituality, and caring for each other.  We reach out to those in need in Branford, the region and in the world, practicing love for our neighbors. We welcome you.
On these pages you will find information about worship, descriptions of ministries, programs, and activities available to all at Trinity. You may also call the church office or email us to obtain further information that's helpful to newcomers.  A warm welcome to you!
An invitation.
For those who identify themselves as "spiritual but not religious," once you look around this website, you will see the many wonderful things that this congregation believes in, hopes for, and accomplishes. But words and images on a website cannot tell you what it feels like here or what you might experience. Only coming through the red doors and spending some time with us will do that and so we invite you. We invite you so that we may be a blessing to you. And we know that in so doing, we will also be blessed. We do not promise easy answers. Instead we commit to being joyful companions on the journey.
Through The Red Doors
A bit of history… The congregation now known as Trinity Church was founded in the 1700s. Our iconic white church on the town Green was built in 1852, in English Gothic style.  Trinity's bell, weighing 2,500 pounds, was cast in 1869 and also served as Branford's first fire alarm until 1925. The sanctuary is beautifully embellished with striking stained glass windows, three of which are from the Tiffany studio. In 1916, the Parish Hall was erected and served as a hospital for the Town of Branford during the Spanish flu epidemic of 1918.
More ...
Through the Years
Trinity's purpose remains steadfast. We are members of the Body of Christ, worshiping together in an inspiring setting, with meaningful liturgy and uplifting music, all informed by our passion for a transformed world of justice and peace. From the Branford Food Pantry to the mountains of Haiti, Trinity Church is committed to loving our neighbors.

Upcoming Events
Sunday, February 4 – Scout Sunday
9:00 AM  First Sunday Breakfast 
Baked egg casserole with spinach, goat cheese and smoked ham with a side of home fried potatoes, orange or cranberry juice, coffee, tea or milk ; $3.50 per adult, $2 per child, $10 family maximum. Please sign up on the list on the glass topped table in the foyer, call the office 203-488-2681 or email Mitch at whaleho2003@gmail.com.
9:45 AM  Church School for Middle School Youth, Guild Room
11:15 AM  Trinity's youth and children's choir will resume practicing with some new music. See you after the 10 o'clock service in the church.  This continues every Sunday – 11, 18 and25.
Coffee hour provided by the Girl Scouts and the Venture Crew.
Monday, February 5
4:00 PM, Trinity serves dinner at Columbus House in New Haven.
Each month, your donations of Dinty Moore Beef Stew, noodles, and canned green vegetables, help to feed over 80 people. Volunteers take a turn baking cake for dessert, or providing salad ingredients, or serving in the kitchen. This is your chance to let team leader Bobbe Otis know how you can help.

 Sunday, February 11
The theme for Lent  will be Connections and Commitments.  Each Sunday during Lent the second reading will be an alternative reading from various sources that will emphasize thoughts about a connection or commitment relevant to our modern day life. The sermon each Sunday will include followup thoughts to the alternative reading. Sharon invites you to watch Brene Brown's sermon that she gave on January 21, 2018, at the National Cathedral.  This will be an excellent inspiration to help you ready yourself for Lent, Easter and Eastertide. The link for this sermon is  https://www.youtube.com/watch?v=ndP1XDskXHY.

Also available will be information on three sources for each parishioner to select their individual program for Lenten study. A packet of information for each source is available at the back of the church or in the Church Office.
Lenten Meditations – a booklet containing daily meditations to be used during Lent.

Lent Madness – A fun way to learn about saintly souls. Trinity parishioners do this through an email group. A handout is available that explains the process, includes the bracket of saintly souls and the information needed to participate with other Trinity folks. For more information contact Rodney Hayes at rodneyfhayes@yahoo.com .


The Episcopal Church's Good Book Club - The Good Book Club is an invitation from  Presiding Bishop Michael Curry to all Episcopalians to join in reading the Gospel of Luke and the Book of Acts during Lent-Easter 2018. Episcopalians will start reading Luke this Sunday, February 11, and read a section of Luke's Gospel every day through the season of Lent. The entire season of Easter will be devoted to daily readings from the Book of Acts.
A packet of information is available that includes a description of the Book Club and the daily calendar. This information is also electronically available at http://www.goodbookclub.org/readings/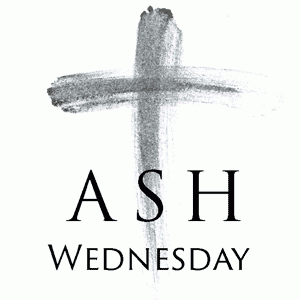 Wednesday, February 14  Ash Wednesday
12:00 PM and 7:00 PM   Liturgy and Eucharist, Imposition of Ashes in the Church
Sunday, February 18
4:00 PM Youth Group
11:30 AM Outreach Ministry Meeting, Guild Room.  Everyone is welcome.  Contribute ideas, help plan activities and allocate the Outreach budget. 

Saturday, February 24
5:00-7:00 PM Soup For All!  A 'food raiser' to benefit Branford Food Pantry, held by Venture Crew 424. Come and enjoy a variety of soups, bread and cookies; help us feed the hungry! Vegan and vegetarian included, gluten free on request Suggested donation: three non-perishable food items or $5.  Snow date, March 10.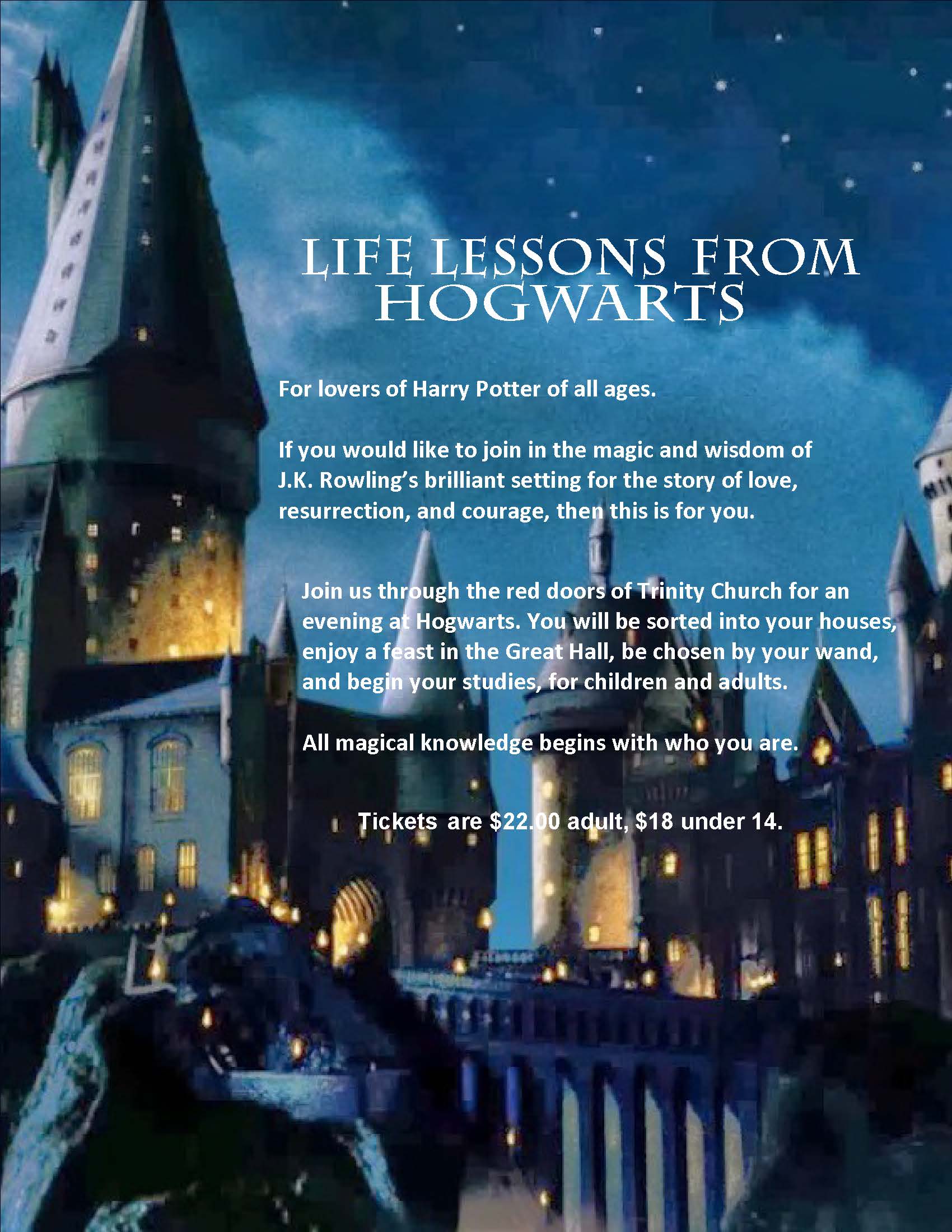 Sunday, February 25
4:30pm-6:30pm   Life Lessons at Hogwarts: An inter-generational evening using potions to focus on Friendship and Community.   Sign up here -  Adults: $22.00, pp, Youth 14 and under: $18.00,pp.   We will sort  you into a Hogwarts House, have a Feast in the Great Hall, and lots of fun for all!  Middle school youth group will participate. Sign up here!
Tuesday, February 27 
7:00 PM Compline, Guild Room.  If you, a loved one or friend is in need of healing, or if you want to offer up healing prayers for our broken world, please join us.  This is a quiet time to pray for healing, peace, and non-violence.  Join with others to pray together for people listed on the weekly community prayer list.  Please invite family, friends, and neighbors.
Everyone is invited to participate in Trinity's events throughout the year. Bring your receipt to the event for tickets purchased online. We look forward to seeing you."
---
Complete Calendar of Events
---
Our News
Enjoy our monthly newsletter, Messenger, full of news, stories, photos and ideas.