Worship at Trinity
Holy Eucharist Rite II
with music and choir

Sunday School and
Nursery Care


Compline/Healing Prayer Service

4th Tuesday

Saturday, December 24


10:30 PM
11:00 PM

Christmas Concert With Carols
Festival Candlelight Service

Sunday, December 25

10:00 AM

Holy Eucharist with Music

Trinity's 10 am Worship Service is televised on Branford Cable Access Channel 18 and AT&T Channel 99 each Sunday at 7 pm.
Welcome!
The people of Trinity Church welcome you.  We are a congregation that embraces all people, from all faith traditions or those who are new to a journey of discovery. We celebrate our diversity.  We are a church community worshiping and exploring the mystery of God, deepening our spirituality, and caring for each other.  We reach out to those in need in Branford, the region and in the world, practicing love for our neighbors. We welcome you.
On these pages you will find information about worship, descriptions of ministries, programs, and activities available to all at Trinity. You may also call the church office or email us to obtain further information that's helpful to newcomers.  A warm welcome to you!
An invitation.
For those who identify themselves as "spiritual but not religious," once you look around this website, you will see the many wonderful things that this congregation believes in, hopes for, and accomplishes. But words and images on a website cannot tell you what it feels like here or what you might experience. Only coming through the red doors and spending some time with us will do that and so we invite you. We invite you so that we may be a blessing to you. And we know that in so doing, we will also be blessed. We do not promise easy answers. Instead we commit to being joyful companions on the journey.
Through The Red Doors
A bit of history… The congregation now known as Trinity Church was founded in the 1700s. Our iconic white church on the town Green was built in 1852, in English Gothic style.  Trinity's bell, weighing 2,500 pounds, was cast in 1869 and also served as Branford's first fire alarm until 1925. The sanctuary is beautifully embellished with striking stained glass windows, three of which are from the Tiffany studio. In 1916, the Parish Hall was erected and served as a hospital for the Town of Branford during the Spanish flu epidemic of 1918.
More ...
Through the Years
Trinity's purpose remains steadfast. We are members of the Body of Christ, worshiping together in an inspiring setting, with meaningful liturgy and uplifting music, all informed by our passion for a transformed world of justice and peace. From the Branford Food Pantry to the mountains of Haiti, Trinity Church is committed to loving our neighbors.

Sermons
Read Rev. Sharon's sermons and Recommended Readings. More...
Upcoming Events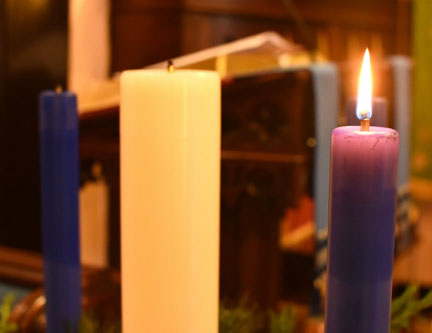 The message of Advent is to awaken and be ready for the presence of Christ to be born - in the world and in you. This year we encourage you to slow down, unplug, make time for silence. Only then will you be able to hear the whispering of the Spirit and see the love of God hidden in plain sight, like a child in a manger. 
Sunday, December 4th – Commitment Sunday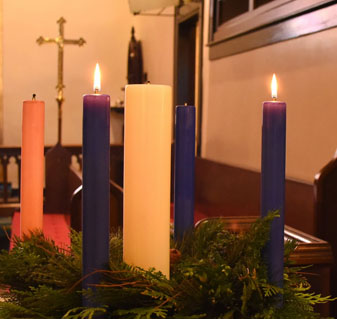 Advent II We light the second blue candle on the advent wreath - the candle of Peace.
10:00 AM, Worship  Our tenor extraordinaire, Ed Hull, accompanied by his wife Diane on the piano, will sing Every Valley from Handel's Messiah.
Monday, December 5
4:00 PM, Trinity serves dinner at Columbus House in New Haven.
Each month, your donations of Dinty Moore Beef Stew, noodles, and canned green vegetables, help to feed over 80 people. Volunteers take a turn baking cake for dessert, or providing salad ingredients, or serving in the kitchen. This is your chance to let team leader Bobbe Otis know how you can help.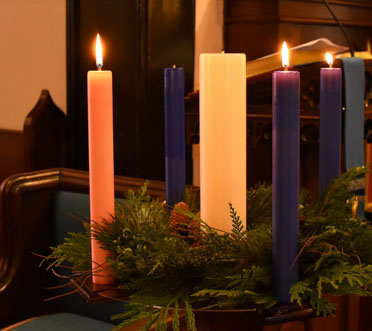 Sunday, December 11
Advent III We light the third candle, it is rose colored - the candle of Joy.
Family Giving Tree
Unwrapped presents for the Branford Counseling Center families are due. Please leave them under the Giving Tree in the Parish Hall, with wrapping materials (paper, bow) for the family to use Think of the love your generosity will bring to those families. Thank you!
Tuesday, December 13
Compline/Healing Prayer, Zion Episcopal Church, North Branford
Members of Trinity and Zion pray together for peace and healing.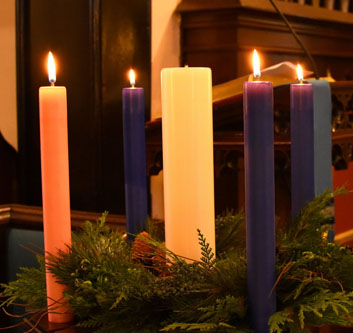 Sunday, December 18
Advent IV- the fourth blue candle is lit. This is the candle of Love.

3:00 - 4:00 PM, Festival of Carols
St. Therese Church, Leetes Island Road, Church Hall
5:30 PM, The Messiah 
First Congregational Church, On the Green
Friday, December 23
7:00 PM, Longest Night: A Blue Christmas
Christmas isn't joyous for those who are grieving, depressed, ill, alone, or feeling blue. We recognize their struggles and invite them to share this special service with others who feel the same, and receive the true gift of Christmas - hope. Please invite anyone you know who might benefit from this service. Best of all, accompany them. Requests for transportation assistance should go to Cathy Seibyl, Pastoral Care Ministry Chair.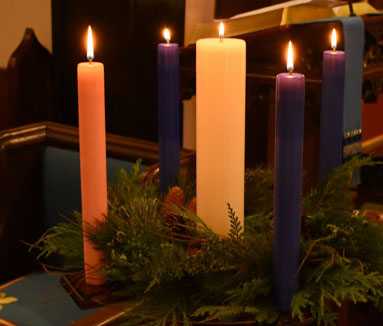 Saturday, December 24th
The fifth candle is lit. It is the Christ candle, reminding us that Jesus is the light of the world
5:00 PM, Pageant and A Christmas For All Ages Service
The children of Trinity will tell of the birth of the Christ Child as livingpieces in a Godly Play story. Christmas carols, poinsettias, the holy meal at the Lord's table, and joy. Come and be fed.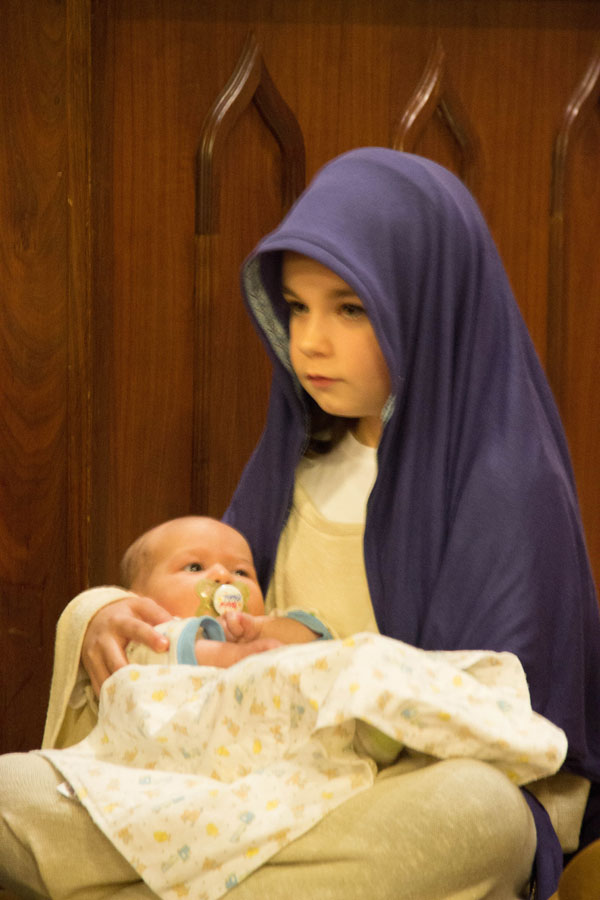 10:30 PM Christmas Concert With Carols, by the Trinity Choir and Congregation
11:00 PM Festival Candlelight Service
Our singing of traditional carols continues with a festive Eucharist. Singing Silent Night in a darkened church, lit by worshipers' hand-held candles, fills you with the sense that the Holy Spirit is present. It is beautiful. Come and be fed by Christ.
Sunday, December 25th
10:00 AM Holy Eucharist with Music
Welcome the baby Jesus.  Please note there is no Sunday school.
---
Our News
Enjoy our monthly newsletter, Messenger, full of news, stories, photos and ideas.